What format will the courses take?
It is important to understand the way in which distance learning works.  Please note that there are no scheduled online weekly classes and that working through the course material each week will be self-directed by students.  This means you must organise your own study time each week.
Instead of going to scheduled classes, you will log onto our website and work through the course material and practical exercises set each week. In addition to using the website for course, you will also be able to use the website to discuss things with other students and your tutor.  The distance learning website uses a state-of-art course management system which is very flexible and provides a discussion forum garden diary options for students to use and share their garden questions and stories.
Each of the modules available by Distance Learning covers the same syllabus as students attending the college in person for lectures. The only difference is that the course material will be delivered to you via the internet. We realise that the internet might not be for everyone as a way to learn, but it is the only cost-effective way we can offer these courses to you. To keep costs (and prices) to a minimum, we do not send out printed materials.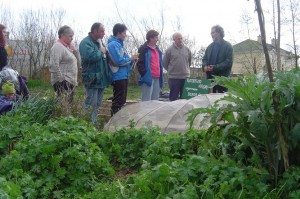 How is Distance Learning assessed?
If you want to pass a module you will need to complete some coursework (projects / practicals) and  (depending on the module) take an exam which will be held in early May in the college. The exams aren't too hard and we provide lots of help and revision. For modules with assignments, these are quite short – often 1,500 words will do – they're usually a write-up of something practical you've done (e.g. report on a crop you've grown).
Of course, you don't have to take the exams and hand in projects if you don't want to be assessed – some people follow the courses for personal interest and don't want a qualification.  Everyone is welcome.
Will there be support from real people?
Yes! You will have access to telephone and email support so you should never feel that you are studying alone. You'll have access to  a staff member at the Organic College who runs the Distance Learning programme along with having direct personal contact with the course tutor. We will specify regular times each week when the  tutor will be available to offer support, reply to emails and talk on the phone.
You will also be part of a community of people studying with the college and you'll be able to share experiences with fellow learners using the internet discussion groups, chat facilities and by meeting face to face on the practical experience days.
Who are the teachers?
Paula Pender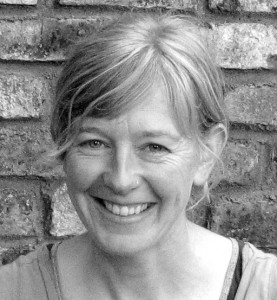 The main Distance Learning teacher is Paula Pender. Paula has been involved in Organic Farming for the past 11 years.  After completing a 2 year diploma in Organic Horticulture at an t-Ionad Glas in 1998 she travelled overseas working on various farming projects.  She spent the majority of her time in the Pacific Northwest where she leased an acre of land outside the city of Portland Oregon.  There she set up a small scale organic garden specialising in growing vegetables herbs and cut-flowers which were sold through local food co-ops, farmers markets and wholesale outlets.
Paula returned to Ireland in the spring of 2007 and put 2 acres of family land into conversion.  She has been growing on a similar scale and establishing sales through the local farmers market and a weekly vegetable box scheme.   She has also been involved in teaching Organic Horticulture though various courses organised by Teagasc and the National Organic Training Skillnet.   Paula has an extensive working knowledge of all aspects of small scale organic vegetable production.
In 2015 Paula completed a Masters in Organic Agriculture with University College Cork.
Tom Atkins
Tom set up the Distance Learning courses in 2004.  He has an MSc in Organic Agriculture and experience on many organic farms including a year researching organic production techniques at the Organic Research Centre in the UK.  He has an interest in permaculture and sustainability.  Tom will be looking after the website and technical side of the courses.
Staff at the college
You will also have access to teaching staff at the college. Dr. Sinead Neiland B.Sc.PhD have a wealth of knowledge from over 15 years of growing and teaching organics.  They have contributed to the development of these courses and will be on hand to answer your questions when needed.  Also at the college is Kathleen Lynch  who looks after the administrative side of the courses. Kathleen can be contacted at [email protected]
How many hours will I need to study each week?
It's hard to say exactly how long you will need to study as everyone is different. However, as a guide, each module will require about 1½ hours study per week to cover the basic syllabus and complete practicals. For Year 1 students that would mean about 7 hours per week for all four modules.   You may also wish to do additional reading .  As the courses run all year there are long holidays (details below).
What qualifications can I get?
Each of the modules is an QQI Common Award Level 5 module which is approved by the Quality and Qualifications Ireland (QQI) in Ireland.  The modules have value in their own right and can be accumulated from different colleges as part of life-long learning.
If you complete 9 modules you will achieve a Level 5 Common Award Certificate in 'Horticulture' with a focus on Organics. You don't have to do all the modules with us – you can take completed modules to build on at another college if you wish.
What is a QQI Common Award level 5 course? The QQI website says:
"The National Vocational Certificate Level 5 enables learners to develop a broad range of skills which are vocational specific and require a general theoretical understanding.  They are enabled to work independently/subject to general direction.  The majority of certificate/module holders at Level 5 take up positions of employment. They are also deemed to have met the minimum entry requirements for a range of higher education institutions/courses.
The QQI Common Award Level 5 will be awarded to a candidate who reaches the required standard in modules whose total value are at least 8 and which include:
6   Vocational modules (including mandatory and elective modules)
2   General Studies modules (one of which must be Communications)
1   Work Practice module"
Recognition
For each module you complete you will receive a 'Record of Achievement' certificate.  You can take this to prospective employers and also refer to it for your customers.
The level 5 qualification is recognised across Europe and is equivalent to vocational awards in other countries.  Even if you already have a higher education qualification, taking these vocational courses can be very inspiring; they aim to be practical and useful in the real world.
Our course is also recognised by the Department of Agriculture as an approved training course for qualification for the Organic Farming Scheme.
What can I choose to learn?
The modules we are offering have been updated to reflect the latest national QQI Level 5 Horticulture courses:
Year 1
Modules Included:

Organic Fruit and Vegetable Production
Soil Science and Growing Media
Organic Standards and Principles
Plant Identification and Use

Year 2
Four modules as above plus:

Plant Science
Plant Protection
Plant Propagation
Communications
Work Practice
When deciding what to choose please bear in mind the following:
You don't have to complete both years. There is value in completing just year 1 as a solid foundation in Organic Horticulture and you'll receive module awards certificates for the four modules you complete in year one.
If you decide to complete the full certificate you will need to complete the remaining five modules in year two.
You only need to pay for one year at a time and can decide if you want to complete year two when you've completed year one. For prices and dates see the page further on in this section.