We're pleased that the Distance Learning courses have attracted a very diverse range of people in previous years.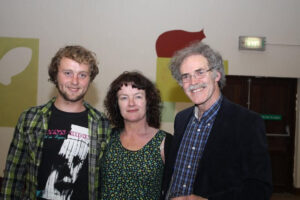 Ages range between 18 and 70.  Some people work in the city and dream of developing their garden or window box, others live on a farm and want to start growing fruit and vegetables commercially.  Experience levels range from people who never planted a seed to those who've been growing for many years.  We hope that the courses will provide something for everyone and we offer help for your individual situation wherever possible.  An added value in joining these courses is the chance to meet like-minded people and to share your experiences – several friendships have developed in previous years.
What do people do after the course?
People who have completed the course have gone onto set up their own farmer's market stalls, run an organic gardening therapy centre and started a project introducing organic gardening to school children. Many people simply develop their own garden and grow more of their own food thus saving money and enjoying the delights of fresh, nutritious and local food.
What will I need?
All you will need to take part in the Distance Learning courses is regular access to a computer with an internet connection. This could be in your own home, or in a library or internet cafe. It might also be useful to have a printer so that you can print material out for reference at a later date.
You won't need to be a computer expert, and training will be available if you need to learn any new computer skills.  However you should be familiar with using the internet or at least be prepared to learn as the course is dependent on the internet for delivery of materials.  If you don't get on with computers then these courses probably aren't for you.